Depalletizing and palletizing with VMT® D/P
"Bin picking" is one of the systems with highest interest of the industry, in order to automate the production process, to increase the capacities and to lower the costs.
3D position recognition with laser measurement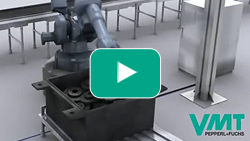 Partial solutions exist using classical sensor technology (inductive or ultrasonic sensors) or with the initial stages of image processing.
However a lot of systems have failed in the face of the complex requirements and problematic site conditions. Thus the challenge for VMT consisted of finding a concept that unites the advantages of the individual sensor technologies specifically for each application.
The VMT IS system enables very different sensors or sensor systems to be combined and to extract the necessary information by means of proven evaluation procedures, so that reliable systems can be offered, which ensure the highest possible availability.
The system is based on 3D evaluation by means of camera technology and/or a height image for the controlling the robot grippers generated by measuring the runtime of the light. However a minimum organization of parts to be recognized and detailed, individual case studies remain absolutely necessary, if the high requirements for the installations availability and profitability are to be ensured.
The requirements for palletizing and depalletizing items from containers or pallets and the handling of parts and various bundles are very complex.
The substantial challenges of these tasks are:
Item complexity and variability
The very different surfaces of the objects to be processed
Recognition of containers, intermediate layers, where applicable, and also foreign objects and disruptive contours
Exclusion of external light interference
In order to fulfill all demands for trouble-free operation and a process-stable system, VMT also decided, in addition to proven image processing systems, on the use of laser light-section and laser time-of-flight sensor technology.
This kind of sensor technology provides not only significant freedom from external light interference for the testing process but also the requisite speed, and fulfills the requirements for accuracy. Additional information is also available for determining, for example, the stack height and recognizing foreign objects; this is often not available when using traditional image processing. The VMT system provides the capability of linking the most appropriate sensors for the variety of individual requirements to the VMT software, in order to generate the optimum solution for the problem. In addition to the image-processing sector (typically surface and line cameras), it also covers triangulation and laser light-section sensors and laser time-of-flight sensors and the latest generation of ultrasonic sensor technology.